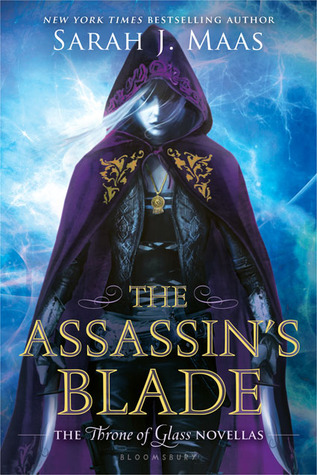 Title: The Assassin's Blade
Series: Throne of Glass 0.1-0.5
Author: Sarah J. Maas
Publisher: Bloomsbury Childrens
Publication date: March 4, 2014
Source: Purchased
From Goodreads:
Celaena Sardothien is Adarlan's most feared assassin. As part of the Assassin's Guild, her allegiance is to her master, Arobynn Hamel, yet Celaena listens to no one and trusts only her fellow killer-for-hire, Sam. In these action-packed novellas – together in one edition for the first time – Celaena embarks on five daring missions. They take her from remote islands to hostile deserts, where she fights to liberate slaves and seeks to avenge the tyrannous. But she is acting against Arobynn's orders and could suffer an unimaginable punishment for such treachery. Will Celaena ever be truly free? Explore the dark underworld of this kick-ass heroine to find out.
***
Right off the bat, I have to admit this: I typically never read YA novellas. I might even sort of/kind of think they're usually unnecessary for the series and seem like a ploy to make more money. Having said that, after hearing so much about the Throne of Glass novellas, I had to give them a shot. And folks, these novellas totally changed my mind.
The Assassin's Blade novellas added SO much to Celaena's backstory. I really wish I would have read these before Crown of Midnight because it would have made the reading experience even more enjoyable knowing of all these adventures Celaena went on before being sent to Endovier. Seeing her train and live with Arobynn was super eye-opening and helped me figure out just exactly what she went through while under his watchful eye. We also learn more about Sam, which really shows fans why Celaena is the way she is with Dorian and Chaol. I connected with her even more because I actually got to see all of the pain and sadness she went through before we "meet" her in Throne of Glass.
If you're like me and aren't a fan of YA novellas, I highly recommend giving these a shot. Maybe they'll change your mind like they did for me