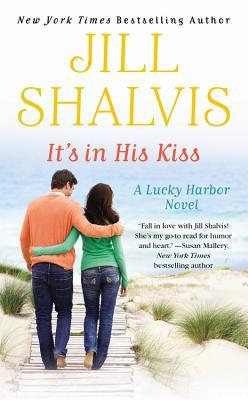 Title: It's in His Kiss
Series: Lucky Harbor #10
Author: Jill Shalvis
Publisher: Grand Central Publishing
Publication date: August 26, 2014
Source: Publisher
From Goodreads:
ONE KISS CAN LAST FOREVER
Becca Thorpe has uprooted her life and escaped to the beach. Now's her chance to get away from city living, throw caution to the ocean winds, and live in the moment. Especially if the moment includes the deliciously sexy surfer she meets shortly after arriving in Lucky Harbor. Something about the dark intensity of Sam's eyes and the thrill she gets at his touch convinces her to stay awhile.
Boatbuilder and investment genius Sam Brody is a self-made man who knows how dangerous it can be to mix business and pleasure. But he can't resist offering Becca a job just to hear her laugh and have her near. Yet when her brother comes to town asking for help, will he tempt her back to her glamorous life in the city? Or do Sam and little Lucky Harbor have a chance to win Becca's heart?
***
It's the beginning of the end, folks. Only three books left in the Lucky Harbor series before Jill Shalvis wraps it up. *cue sobbing*
It's in His Kiss is the first book in the last three-book continuation of the series, and boy does Jill Shalvis give it all she's got. I love all of her books, but this one stood out to me more than others. I think a huge reason why is Sam Brody, the definition of a hot alpha male. You can't help but be drawn to his moody personality, and you soon realize there's way more to him than just a hot body (although that doesn't hurt…AT ALL). I loved the chemistry between him and Becca and watching it get hotter and hotter as the story went on was so fun to read.
I'm not sure what I'm going to do when the series is over (other than cry), but until that happens, I'll just get excited about reading the last two books coming out this year: He's So Fine and One in a Million.